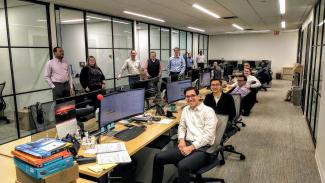 The Next Chapter of Canaras
 The launch of this new website marks the end of our exciting move to our new office at 1540 Broadway and rebranding with a new CANARAS Logo. In November of 2021, we completed our move to 1540 Broadway. Our building is right in the heart of Times Square and boasts a corporate cafeteria, full health club, and meeting and entertainment center for employees.  Timing of the move couldn't have been better with lease values for A Class space at 40 year lows.
Shortly after the move, we began our rebranding project. Our redesigned logo draws more on our SARANAC Adirondack Mountains roots with its stylized backdrop of Whiteface Mountain, the fifth-highest mountain in the U.S. and the ever-present view from the SARANAC's chain of lakes. Our revamped webpage, investor portal, social media, and print templates were the final step in this effort.
We hope you like our new look and stop by and say hello whenever you're in town.